I have spent many years playing through Fender and Marshall amplifiers.  I still own classic Fenders.

They define Rock and Roll.  They are timeless.  They are mass produced.  They don't all sound great.  Many of the best Fenders are past thier prime for the speaker and internal components and the designs are based on tube specifications that do not exist today.

Current offerings from any major manufacturers are short term units.  They are not built beyond a useful lifetime decided on by a corporate mindset that depend on built in obsolecence to continue the company.  If a substitute resistor is available for 2 cents cheaper per box of 10,000, it will wind up in the mass production line.  As one major music company executive told me "Our biggest competition is the units we made before 1976"

Tony Bruno amps are the finest hand built custom amplifiers today.  Each component is personally selected by Tony for tone and reliability.  There is nothing here by accident, used for convienience, or a substitute for the proper part.

Years of work listening to, designing, and repairing classic amplifiers are incorporated into Bruno designs.

The amplifiers stand alone and above any in thier class.  I have wasted many hours and many more times the money searching for a mass produced amplifier that had the tone I now easily call upon from my Bruno Underground.

Thank you, Tony


- Jim Kolman
My experience is that tone is about what an individual feels comfortable with.  When your tone is "on" you can concentrate on playing without distraction.  When you feel your tone is thin or overdriven you cannot find "the zone" in your playing and it is a downward spiral of frustration.

Holy grail tone is a tone you did not even realize you could get.  It is a sound you get when playing through an amp that is responsive to the touch with a fullness, richness and clarity beyond what you previously imagined. 

Bruno amps have this tone.

When it comes to tone everything matters.

In a quest to have the best sounding equipment available to me, I have been told many things by well respected people in the industry.  Some things I have been told are in direct conflict.  The common thread seems to be an ear for the "sound" that supercedes any other talents.  In the search for the finest components, such as 714 orange drop caps, CTS pots and waterproof phenol board, I discovered Tony Bruno.  Tony has spent years in the music business listening to musicians and tweaking amplifiers to the ultimate degree of inflection.  Not only is Tony a wealth of information about components used in tube amps, but uses them in his custom designs and can explain in detail the reason why he feels a particular component is called for.

Companies that have the singlemindedness to insist on the very best products, meticulosly built with the finest components by master craftsman are rare.  Most times these shops are small.  With mass production the magic of the best design is worn away with each layer.  Expanded personell and larger facilities eventually mean the direct interaction with the designers, master craftsman, and ultimately the consumer, is lost.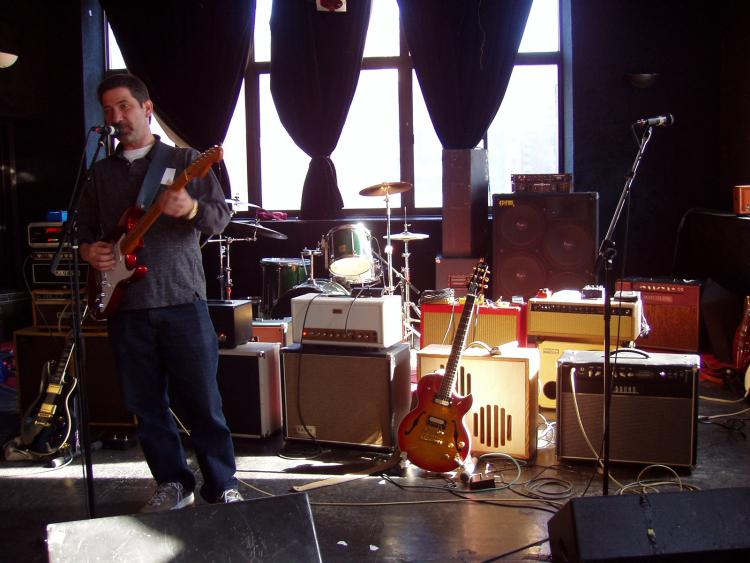 NYC Tonefest Amp Shootout 2004 Click picture for video